Much to the chagrin of our regular readers who try to keep up with DQYDJ in a feed reader, we must once again anger you by asking you to click through to an article. It became tedious for us to calculate the 'amount of the world economy' of each country which was next in line to 'possibly default'. Instead of quitting the subject entirely in disgust, we decided to just visualize the GDP of the entire world. To that we have added the share each country contributes to World GDP. Because sharing is caring, our data is posted at IBM's Many Eyes for you to edit and play with. Fascinating stuff, and a great visualization if we do say so ourselves.
Beware a (insert country here) Default!
All data is from the World Bank, and dates from 2010. Coming in at number one is the United States (with 23.13% of the world's economy!). Our good friends Canada are number 11 in the world with 2.5%. These numbers are from 2010, so depending on current market conditions, either Italy or Brazil is in the number 8 spot with about 3.3% of World GDP. While I argued here that Greece doesn't matter much, an Italian default would be a whole other ball game (it matters, in short).
Which Countries are Too Big to Fail?
So, how do we decide which countries would have a devastating impact? Well, as you recall from the Greece article, the Russian default of 1998 came a year after they were 1.34% of the world economy by GDP. That default caused worldwide liquidity issues and a massive bailout of Too Big To Fail Long Term Capital Management. Argentina's default in 2002 (at a 'mere' .84% of World GDP in 2001) caused decidedly less issues.
Let's draw the line at 1% of the World economy.  Without further ado, here's your Too Big To Fail List!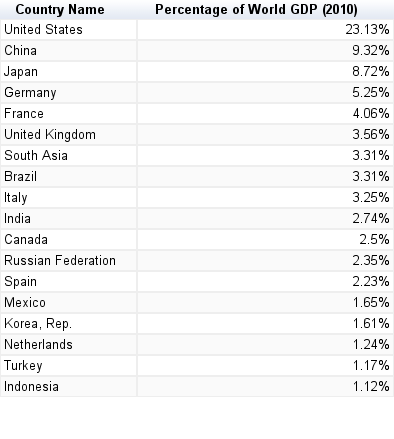 Readers, how much do you worry about an Italian default? A Greek? A French? A German?