A bit over a year ago, we here at DQYDJ tried to make sense of a curious occurrence.  You see – believe it or not, there is (perhaps) a lower bound for a mortgage.  Working off the assumption that most mortgages would be refinances or finished (perhaps due to sale) within 10 years, we looked at the spread between the 10 year inflation expectations of the market and mortgage rates.  Today we consider a 30 year mortgage and look at the whole thing.
When we last approached this subject, the average 30-year mortgage rate was 4.07%.  Now?  In February, 2013 the Federal Reserve's tracking series had it at 3.53%.
Inflation Expectations, Refinances?
A 30 year mortgage is amortized over those thirty years – so the interest you pay on a mortgage is front-loaded.  To find the right mind-frame for this, you, the borrower, are paying interest on a thirty year deposit from the bank – so paying off a dollar or principle in the first month of a 3% mortgage would be like earning 3% for 30 years on that dollar (well, for your bank).  Therefore, we would expect that the 30 year inflation number is the 'lower bound' of possible mortgage rates, assuming no rebates or other shenanigans.  Why is that?  Well, why would a bank lend to you for 0% real return?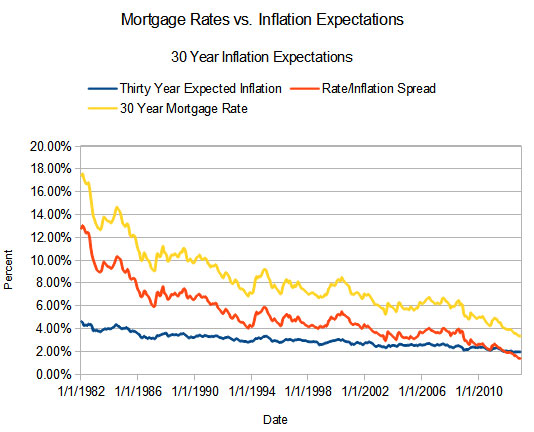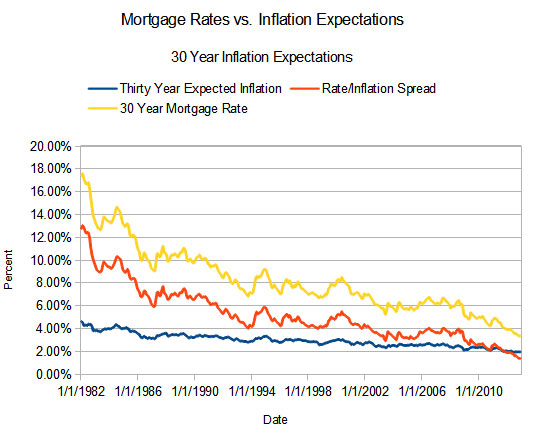 Look – that's a great deal on a mortgage.  You're looking at around 2% expected inflation over the life of your loan, and you can get a loan for around 3.25 – 3.35% on a 30 year.  Basically, you're paying 1.35% a year for your mortgage.
The S&P 500 returned 16% last year.  I'm just saying.  (Here's some other returns you can peruse, in convenient calculator form).
I didn't know in the last article if it could narrow further, and we were looking at the 10 year.  (It did.)  Curiously, the spread is now lower than inflation expectations for the first time in history.  Where do you think it goes from here?